Science & Cocktails Johannesburg
Science & Cocktails Johannesburg was launched by Kevin Goldstein and Costas Zoubos in 2015. From 2015-2018 the events were held once a month at The Orbit Jazz Club in Braamfontein. They have showcased the research of South Africa-based scientists, as well as that of several international scholars, while also giving the stage to talented Jazz musicians, all mixed with locally developed craft cocktails.

Science & Cocktails is a non-profit initiative which aims to make scientific knowledge accessible to everybody as a service to the community. Thanks to support from the Science & Cocktails Foundation in Denmark, NITheP, the Mandelstam Institute for Theoretical Physics within the School of Physics at Wits, the Simons Foundation and the National Research Foundation, we have been able to cover the costs of our events with only a nominal cover charge.

Since the closure of the Orbit at the end of 2018 we have not been organising events. Although we are in discussion with alternative venues, it is not currently possible to organise events due to the Covid-19 pandemic. However we aim to return as a feature of Johannesburg's nightlife as soon as it becomes safe again to do so.

Follow us on Facebook or contact us at jozi@scienceandcocktails.org.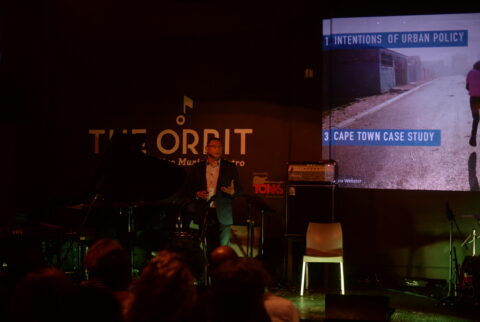 Credits
Kevin Goldstein (scientific overview, hosting)
Costas Zoubos (scientific overview, hosting, website)

Jácome Armas (concept, scientific overview, artwork)
Vishnu Jejjala (loan of audiovisual equipment)
Aymeric Peguillan/Dan Sermand/Kevin Naidoo at the Orbit (venue, music overview)
Shakir Jadoo and the Orbit bar crew