On Fish, Fascists, and the Power of Collective Behavior
March 8, 2023
, 
Paradiso Noord (Tuinzaal)
Amsterdam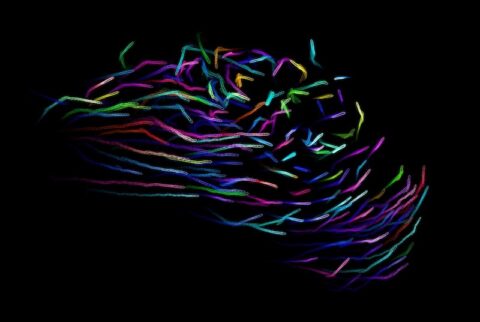 Paradiso Noord (Tuinzaal)
IJpromenade 2
Amsterdam
To event overview
Can the study of swarm intelligence in animals allow us to harness similar benefits in human society? Can animals give us insight into the evolutionary origins of extremism? Can we find a way to avoid increasing polarization, collective inaction and stupidity? Is the science of collective behavior now a crisis discipline, essential to achieve ethical stewardship of contemporary human society?
Every decision we make in our lives is influenced by, and in turn influences, the decisions of others. Collective behavior is, therefore, integral to every aspect of our personal and professional ives. But does this make us smarter? Elon Musk wrote "Because it consists of billions of bidirectional interactions per day, Twitter can be thought of as a collective, cybernetic, super intelligence". Yet, even to the sympathetic observer it is clear that social media can foster polarisation, distrust and even extremism. The truth is that we still know remarkably little about how to harness the benefits of collective action while simultaneously avoiding what can become catastrophic acts of collective stupidity. Doing so, however, will prove essential if we are to find solutions to many of the most pressing global issues we face, including promoting human well-being, avoiding escalation of conflicts, and effective management of our planetary health.
The study of animal collectives, such as hordes of ravenous locusts, schools of darting fish and mesmerising 'murmurations' of starlings, can provide essential insights into how collective action emerges from individual behaviours and interactions. By considering collectives as complex adaptive systems principles of collective intelligence—that could impact our lives in numerous ways—may come to light.

This event is an initiative by the Dutch Institute for Emergent Phenomena (DIEP) with the support of NWA Route 2. Science & Cocktails Amsterdam is presented in cooperation with Paradiso Amsterdam.
Talk by
Iain Couzin
Iain Couzin is Director of the Max-Planck Institute of Animal Behavior and Director of the Cluster of Excellence 'Centre for the Advanced Study of Collective Behaviour', Chair of Biodiversity of Collective Behaviour at the University of Konstanz, Germany and a 2023 Rothschild Distinguished Fellow at the University of Cambridge, UK. Previously he was al Professor at Princeton University, USA and Royal Society University Research Fellow at the University of Oxford. His work aims to reveal the fundamental principles that underlie evolved collective behavior, and consequently his research includes the study of a wide range of biological systems, from neural collectives to insect swarms, fish schools and primate groups. In recognition of his research he has been recipient of the Searle Scholar Award in 2008, top 5 most cited papers of the decade in animal behavior research 1999-2010, the Mohammed Dahleh Award in 2009, Popular Science's "Brilliant 10" Award in 2010, National Geographic Emerging Explorer Award in 2012, the Scientific Medal of the Zoological Society of London in 2013, a Web of Science Global Highly Cited Researcher since 2018, the Lagrange Prize in 2019 and Falling Walls Life Sciences Award and the Gottfried Wilhelm Leibniz Prize, Germany's highest research honor, in 2022.