What can we learn from parasites?
May 10, 2022
, 
Paradiso Noord (Tuinzaal)
Amsterdam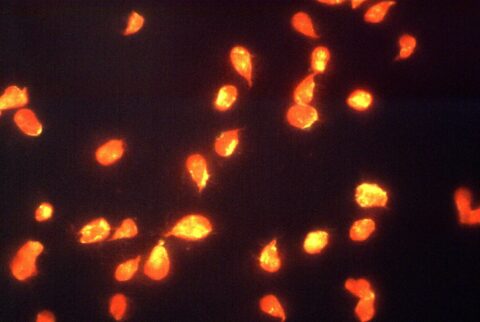 Paradiso Noord (Tuinzaal)
IJpromenade 2
Amsterdam
To event overview
How have parasites changed the way we understand the immune system? What have parasites told us about the changing disease patterns worldwide? Can parasites explain the course of COVID-19 in Africa?

Throughout evolution, parasites have contributed to shaping our immune system and diseases patterns. Parasitic infections are very common in rural areas of low to middle income countries, causing a range of outcomes; from asymptomatic infections to death. By studying these parasitic infections in different people around the world we have gained knowledge and understanding on how parasites and environmental factors shape our immune system. We thought we knew how the immune system looks like, but only now are we getting a more complete picture and generating a truthful immune system atlas. This can help us understand COVID-19 patterns in Africa, as well as why vaccines work less well in low to middle income countries. But also give us insight in the development of cures for inflammatory diseases. Who would have thought that studying parasites can open new avenues for prevention and therapies?

This event is an initiative by the Dutch Institute for Emergent Phenomena (DIEP) with the support of NWA route 2. Science & Cocktails Amsterdam is presented in cooperation with Paradiso Amsterdam and acknowledges the support of New Scientist NL.
Talk by
Maria Yazdanbakhsh
Maria Yazdanbakhsh heads the department of Parasitology at Leiden University Medical Center, which takes part in basic and clinical research and employs an interdisciplinary group of basic and clinical scientists who focus on understanding host-parasite interactions at different levels. The knowledge gained is being applied to contribute to 1) development of effective vaccines against parasitic diseases and 2) identification of parasite-derived immune modulatory molecules to control inflammatory diseases. She received the Spinoza prize in 2021.

Maria did her Master of Science degree in medical parasitology at the London School of Hygiene and Tropical Medicine and a PhD on Immunology that involved research on parasites at University of Amsterdam. After a post-doctoral fellowship period at Imperial College, London, she got a position in Leiden University. Through her conviction that equal partnership and co creation is the key to long term collaboration, she has set up strong and sustained joint projects with academic centers in a number of African countries and in Indonesia. The population studies are providing important insights in the immune system and dynamic alteration in disease patterns in an urbanizing world where prevalence of parasitic infections changes. She has trained many curious and brilliant young scientists from low to middle income countries who are now conducting pioneering work back at home.