Does Media affect how we see the world?
March 30, 2019
, 
Den Grå Hal
Copenhagen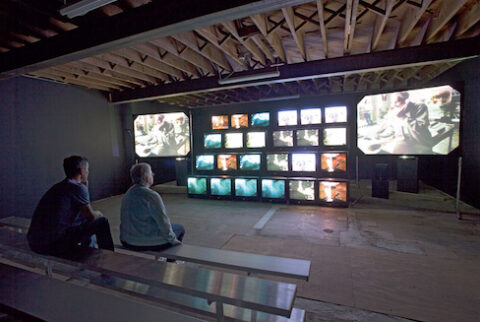 Den Grå Hal
Refshalevej 2
Copenhagen
To event overview
A joint venture of Science & Cocktails and CPH:DOX presents a transdisciplinary evening of science with media/entertainment researcher Johanna Blakley, the screening of the documentary INFORMATION SKIES and the party concert of Trypical Cumbia. All this blended with cloud-like flavours of homemade cocktail recipes.


Programme for the evening:

18:30 Doors open for cocktails
19:10 INFORMATION SKIES
20:00 Media impact and its effect on viewers with Johanna Blakley
21:20 Trypical Cumbia
Entrance is free after 21:00.

How do media messages affect us? Can media storytelling – whether factual or fictional – affect how we see the world? Can stories change the way we lead their lives? What role does emotion play in this? And how do we measure that?

Media has long been used to spread messages to mass audiences, but, as marketers often say, "Half the money I spend on advertising is wasted; the trouble is I don't know which half." Despite a plethora of digital data, measuring the effectiveness of media messages continues to be challenging.

The Norman Lear Center at the University of Southern California has generated media impact studies for 16 years, and, with the founding of its Media Impact Project five years ago, the Center expanded its focus from scripted TV to news, documentaries, narrative films, online video projects, and virtual reality.

Lear Center researcher Johanna Blakley will explain the "entertainment education" model that they used in their Hollywood, Health & Society program which bridges the gap between health experts and TV storytellers, as well as their work on the Media Impact Project, which develops and gathers best practices in media impact assessment.

Methods and findings from a range of media impact studies will be summarized, including results from studies on changes in awareness, knowledge, attitudes and behavior among viewers of scripted entertainment (soap operas, primetime dramas, feature films), as well as consumers of journalistic content on broadcast TV, film, online, and in virtual reality environments.

Combining multiple media genres (anime, sci-fi, fantasy role-playing games) and moving beyond the representation of linear time, Metahaven's Information Skies offers a dreamlike speculation that questions the boundaries between sound and images, reality and fiction, factuality and technology, reflection and embodiment.

Afterwards, mediatic cocktail recipes while Trypical Cumbia takes the stage. Rebel Cumbia, Cumbia Andina, Cumbia Experimental, Cumbia Sabrosa, Mambo Chueco, Tinku de Combate… a typical tropical party trip! Trypical Cumbia is without a doubt the most popular live Latin band of the time in Scandinavia and delivers a dance show with a very high energy emission.
Photo: Part of Gretchen Bender's visual installation entitled "Total Reset", 1987