Mapping the brain synapse by synapse to explore the mind
November 15, 2022
, 
DR Koncerthuset
Copenhagen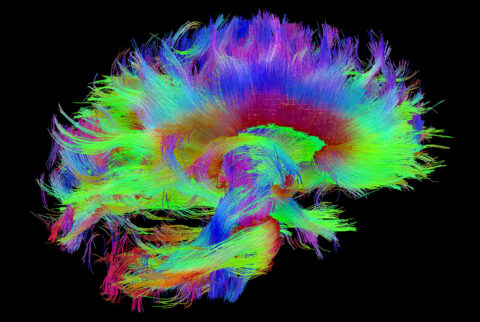 DR Koncerthuset
Ørestads Blvd. 13
Copenhagen
To event overview
Science & Cocktails is proud to present a special episode with neuroscientist superstar Jeff Lichtman, who will take us on a tour through the brain, the mind, and every single connection that your neurons make. Can we have a complete map of the brain all its connections? And what would it tell us about our own minds? Just before you enter the world of the unknown you will be hearing minimalist punk sounds by Girlcrush.
What does the human brain actually looks like? What is special about the human brain? How do human brains store information? What is connectomics, and why do we do it? What is the relationship between information and understanding?
Human brains are unusual given that most of our behaviours are learned. In what form this learned knowledge is stored is not known. To learn how and where our experiences are stored, Jeff Lichtman has been developing new techniques with the aim of seeing the brain as completely as possible – that is to the level of every single synapse that connects every single nerve cell. We use modern very high-resolution imaging techniques with a good deal of aid from computer scientists at Google to map the wiring diagram that connects nerve cells to each other at synapses. I will describe our studies where we have looked at a few data sets where we have mapped all the connections between nerve cells. As with the development of any new method to apprehend a previously unseen world, the results show many unexpected things.

Event held in English with the generous support of the Lundbeck Foundation.
Photo: The wiring diagram of a human brain revealing connections. Courtesy of the consortium of The Human Connectome Project