The biodiversity crisis
May 8, 2022
, 
DR Koncerthuset
Copenhagen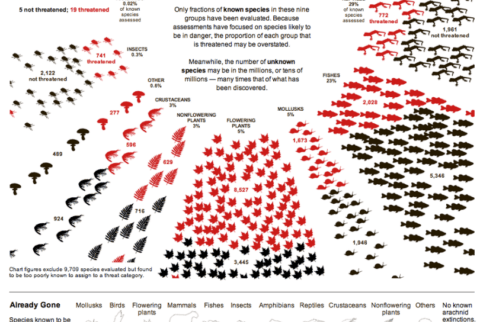 DR Koncerthuset
Ørestads Blvd. 13
Copenhagen
To event overview
Science & Cocktails is proud to present an episode on "The biodiversity crisis: is mass extinction of species worse than climate change?" with world renowned ecologist Carsten Rahbek, professor in Biodiversity and Director of the Center for Macroecology, Evolution and Climate at the GLOBE Institute, University of Copenhagen, who will be speaking about ongoing mass extinction and what we can do about it. To ease your way into this subject, I Think You're Awesome will be playing some tunes.
What is the 6th period of mass extinction? Why do we risk losing a million species for ever – what causes the biodiversity crisis? Why should we care – or why might it be an even larger problem than climate change?
Biodiversity is declining rapidly throughout the world. The challenges of conserving the world's species are perhaps even larger than mitigating the negative effects of global climate change. Dealing with the biodiversity crisis requires political will and needs to be based on a solid scientific knowledge if we are to ensure a safe future for the planet.

Species extinction and the degradation of ecosystems are proceeding rapidly and the pace is accelerating. The world is losing species at a rate that is 100 to 1000 times faster than the natural extinction rate, number of living organisms is dropping drastically and up to 70% of the world ecosystems are human disturbed.

Mass extinctions of species have occurred five times previously in the history of the world – last time was 65 million years ago when the dinosaurs and many other species disappeared. Previous periods of mass extinction and ecosystem change were driven by global changes in climate and in atmospheric chemistry, impacts by asteroids and volcanism. Now we are at the footstep to the sixth mass extinction event, which is a result of a competition for resources between one species on the planet – humans – and all others. The process towards extinction is mainly caused by habitat degradation, whose effect on biodiversity is worsened by the ongoing human-induced climate change.

The biodiversity crisis – i.e. the rapid loss of species and the rapid degradation of ecosystems – is claimed to probably be a greater threat than global climate change to the stability and prosperous future of humankind on Earth. Why is that – and is it true? What is the link between biodiversity to human welfare and wellbeing – between biodiversity and clean water, global food resources, green economy and the increasing risk of pandemics?

Dealing with the biodiversity crises, the EU has launched a new Biodiversity strategy and the world is agreeing to a global agreement on Biodiversity. In the words of the President of the European Commission, Ursula von der Leyen: It is time to fix our broken relationship with nature.

So what are the solutions and how does Denmark, EU and the world deal with this challenge?

Event held in English and with the generous support of Novo Nordisk Fonden.
Photo: International Union for Conservation of Nature, NY Times/Bill Marsh