What Your Food Ate
August 26, 2022
, 
DR Koncerthuset
Copenhagen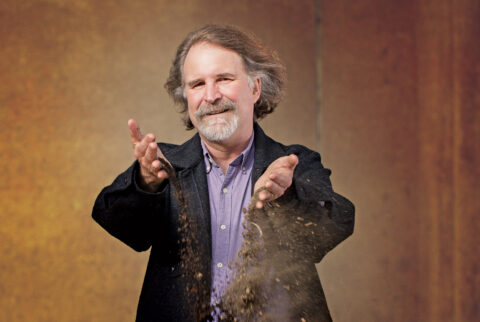 DR Koncerthuset
Ørestads Blvd. 13
Copenhagen
To event overview
This episode "What your food ate: How to Heal Our Land and Reclaim Our Health" with David Montgomery, professor of geomorphology and author of "What your food ate", will take you on a journey through the world's soil and its effects on farming and our health. All this just after listening to the sound of Tabloid and before the records of Copyflex.

What is the state of the world's soil, and how has soil degradation shaped the course and fate of past civilizations? Why is soil life so critical to regenerative farming? How fast can regenerative farming practices bring degraded soil back to life? How do farming practices affect the nutritional profile of crops? Does soil health influence human health?
We all know that diet matters and have heard the old adage you are what you eat. But dig a little deeper and the importance of what your food ate comes into focus. For how we treat the soil on farms ripples through to affect the amount of health protective micronutrients and phytochemicals in our crops, and what we feed livestock affects the mix of fats in meat and dairy products.
Modern farming practices reliant on frequent tillage, excessive applications of soluble nitrogen fertilizers, and reliance on pesticides have both degraded agricultural soils and reduced the amount of beneficial compounds in foods. Yet in farms in both the industrialized and developing worlds improving soil health through adoption a combination of three transformational regenerative farming practices—minimizing soil disturbance, planting cover crops, and growing diverse crop rotations—offers a profitable way to rebuild the fertility of the soil and thereby reduce dependence on fossil fuels and agrochemicals.
Combining ancient wisdom with modern science, regenerative practices can be good for farmers and the environment, translating into farms that use less water, generate less pollution, lower carbon emissions, stash carbon underground, and produce more nutrient-dense food to better support human health. It turns out that what's good for the land is good for us too.
Event held in English with the generous support of the Novo Nordisk Foundation.

Photo: Erin Lodi