The technology that divides us: is social media making us more polarized, or are we the problem?
September 19, 2023
, 
DR Koncerthuset
Copenhagen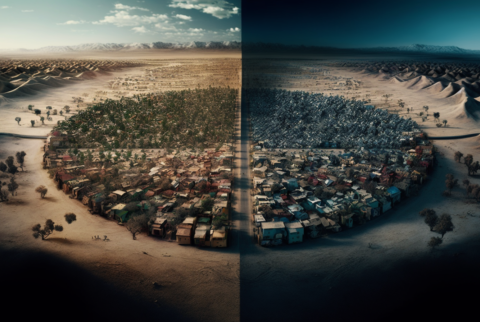 DR Koncerthuset
Ørestads Blvd. 13
Copenhagen
To event overview
Earthlings: society is experiencing recurring trends towards increasing polarization. Social media appears to increase the divide between opinions and in many times radicalizing individuals. Chris Bail, professor at the University of Duke, is a scientist directing the Polarization Lab, constantly trying to understand the sociological mechanisms underlying this great divide and discussing with Governmental agencies how to mitigate it. All this just after MOERCH collective plays dystopian sounds.
How does technology exacerbate polarization? Are we are fault or the machines? Can data experiments show us polarization in action? Is Big Tech doing anything about polarization online? Can we do anything about it? Can AI be a tool for good in this, or will it make things worse?
In an era of increasing social isolation, platforms like Facebook and Twitter are among the most important tools we have to understand each other. We use social media as a mirror to decipher our place in society, but it functions more like a prism that distorts our identities, empowers status-seeking extremists, and renders moderates all but invisible. Chris Bail directs the Polarization Lab at Duke University and is part of a team using data to show how common perceptions of polarization are actually all wrong. In his book Breaking the Social Media Prism: How to Make Our Platforms Less Polarizing Chris combats common myths about echo chambers, foreign misinformation campaigns, and radicalizing algorithms, revealing that the solution to political tribalism lies deep inside ourselves.
Drawing on innovative online experiments and in-depth interviews with social media users from across the political spectrum, Chris will explain why stepping outside of our echo chambers can make us more polarized, not less. He takes us inside the minds of online extremists through vivid narratives that trace their lives on the platforms and off—detailing how they dominate public discourse at the expense of the moderate majority. Wherever you stand on the spectrum of user behavior and political opinion, Chris offers fresh solutions to counter political tribalism from the bottom up and the top down. He introduces new ideas drawn from data experiments which can help us avoid misperceptions and engage in better conversations with the other side. Finally, he explores what the virtual public square might look like if we could hit "reset" and redesign social media from scratch through a first-of-its-kind experiment on a new social media platform built for scientific research. Providing data-driven recommendations for strengthening our social media connections, this lecture will demonstrate how to combat online polarization without deleting our accounts.
Event held in English with the generous support of the Novo Nordisk Foundation.