The beginning and the end of time
October 7, 2023
, 
Den Grå Hal
Copenhagen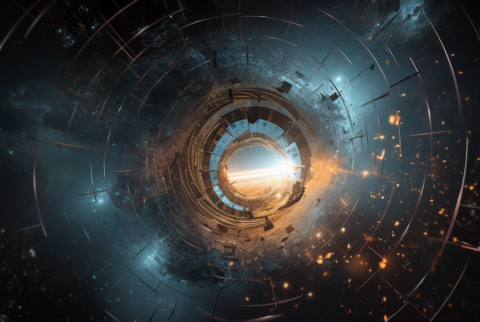 Den Grå Hal
Refshalevej 2
Copenhagen
To event overview
The coming episode of Science & Cocktails will take you all the way to the beginning of the universe and all the way to the end of time. Superstar theoretical physicists Thomas Hertog and Erik Verlinde will be your guides in this journey through the universe and its mysteries. Before you'll be hearing sounds from Toby Ernest.
What is dark energy (and how does it affect our Universe)? What is an event horizon? Does our Universe have an event horizon? What happens to space and time at an horizon? Are space and time fundamental (or do they emerge from something else)? What role does quantum mechanics play in explaining the beginning and end of time?
Tickets: Seated tickets are paid. Standing is free and on a first-come, first-served basis.
On the origin of time by Thomas Hertog
Perhaps the biggest question Stephen Hawking tried to answer in his extraordinary life was how the universe could have created conditions so perfectly hospitable to life. Pondering this mystery led Hawking to study the big bang origin. But his early work ran into a crisis when the math predicted many big bangs producing many universes, most far too bizarre to harbor life.
Holed up in the theoretical physics department at Cambridge, Stephen Hawking and I worked shoulder to shoulder for twenty years, developing a new theory of the birth of the cosmos that could account for the emergence of life. Peering into the extreme quantum physics of cosmic holograms and venturing far back in time to our deepest roots, we were startled to find a deeper level of evolution, in which physics itself transforms until particles, forces, and even time itself fades away. Once upon a time, perhaps, there was no time?

On the end of time by Erik Verlinde
Our Universe expands and keeps expanding due to the presence of a mysterious substance called "dark energy". As a result, the Universe has a horizon, like that of a black hole, at which the expansion velocity exceeds the speed of light. From our point of view space and time cease to exist at this cosmological horizon. At that point the gravitational laws take the same form as the laws of thermodynamics. I will argue that space and time, together with the gravitational force, should therefore be seen as being emergent from an underlying microscopic description of Nature. This new perspective on our cosmos promises to solve the mysteries associated with dark energy and explain other understood gravitational phenomena. It also means that a very long time in the future our notions of space and time will eventually disappear.
Event held in English with the generous support of the Novo Nordisk Foundation.