DATA DATA 0.9
November 26, 2022
, 
Teater V
Copenhagen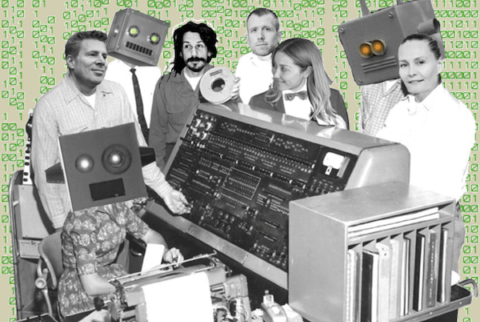 Teater V
Porcelænstorvet 4
Copenhagen
To event overview
DATA DATA is a theatre play based on the history of the computer developed by Teater Fantast in collaboration with Science & Cocktails. This version of the play is a "beta version" (in Danish) and is followed by a talk (in Danish) by Professor of artificial intelligence Thomas Bolander.
About the play
Grandma can remember an earlier time. Dad sighs nostalgically if someone says: "Commodore 64" and the child has grown up with pacifiers and iPads. The computer has taken over our world in a few generations. It is an indispensable tool in the digital reality we find ourselves in. And we depend on it, both collectively and individually. But do we really understand what it is? This super calculator that we use all the time? With guidance from computer experts and professors, Teater Fantast has created a musical, informative and entertaining performance for the whole family. Join us on a journey through the history of computing, where we promise data, digital gadgets and gizmos. Man, machine and mathematics. Laugh, cry and gigabytes.
The play is created as a family performance for the whole family - both children, teenagers and adults (minimum age 6 years).
About the talk: How do we make social robots?
Artificial intelligence is about making machines behave intelligently, without it being necessarily completely clear what it actually means to behave intelligently. Among the ways we humans can be intelligent, one is to behave considerately and understandingly towards others. But it requires that we can put ourselves in each other's shoes. So if robots are also to be able to find out how to be considerate and understanding towards others, for example us humans, they will also need to be able to put themselves in our place. In the lecture, Prof. Thomas Bolander will talk about what is needed for robots to take the place of humans, and illustrate his own research on humanoid robots with social intelligence.
DATA DATA has the financial support of the Novo Nordisk Foundation and is a co-production between Teater Fantast & Teater V. Lectures in connection with the performance are held in collaboration with Science and Cocktails.