Twins reared apart from birth: the science behind the fascination
May 7, 2016
, 
Byens Lys
Copenhagen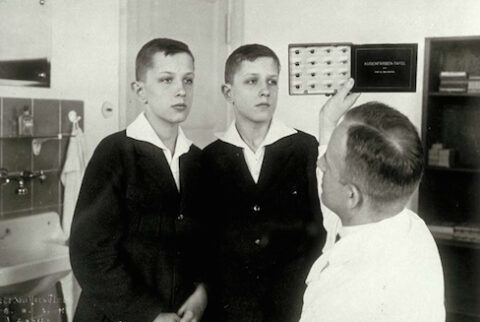 Byens Lys
Fabriksområdet 99
Copenhagen
To event overview
How are twins used in scientific research, and why are they important? Why are some twins separated at birth, and how are they discovered? Why is there widespread fascination with twins, twin reunions and their behaviors? What are some surprising findings from reared-apart twin research?

There always has been so much fascination about twins and their psychology. In particular, even though twins can be separated apart from birth, live in completely different parts of the world and still develop similar personalities?

Scientific studies using twins, especially twins reared apart, reveal a great deal about the factors affecting human behavioral and medical characteristics. Twins have also been a great source of excitement for members of the general public, especially since twinning rates in western nations have doubled in the last thirty-five years. Nancy Segal will survey studies of reared apart twins, with a focus on the origins, methods, findings, conclusions and controversies of the Minnesota Study of Twins Reared Apart (MISTRA), launched in 1979 at the University of Minnesota.

Given the comprehensiveness of this project, many people are unaware of the multitude of studies published in diverse psychological, physiological and medical journals, as well as in the recent book Born Together-Reared Apart: The Landmark Minnesota Twin Study (2012). Segal will discuss key findings concerning genetic and environmental influences on general intelligence, personality and other behavioral and medical traits. Also, the reasons for the widespread fascination with twins will also be addressed, as will the future of reared-apart twin research.

Afterwards, cocktails which were never reared apart while Lars Graugaard, a.k.a. Lars from Mars, invites the audience on a trip down some abstract territories, treating them with his machine to apocalyptic science-fiction scenarios of extreme highs and profound lows, pulsations and vibrations. Simultaneously, Sune Petersen, a.k.a. MOTORSAW, visual artist, will create highly complex patterns with his own custom made live visual instrument that allows intuitive improvisation.